Balkan Beat Box
BBB are Tamir Muskat and Ori Kaplan Joined with the gifted musicians/composers Itamar Ziegler, Dana Leong, Tomer Yosef and other greats (see band members). Both Tamir and Ori have been active for a decade in NYC's premier underground bands like Firewater, Gogol Bordello, J.U.F, Big Lazy, Shot'nez, Victoria Hanna. and DJing around the world. Collaborating with VJ's and MC-Vocalist, Percussionist Tomer Yosef, the BBB show came to life.
NEW MEDITERRANIO
BBB is a natural reaction of musicians who wanted to erase political borders (as our ears don't have them, why should we?) On the dance floors from NYC to Middle East. From Berlin to Macedonia to Bloomington Indiana to Tokyo to Jerusalem to San Francisco to Bordeaux and Brussels. People are listening and moving to the new BBB sound.
PEACE IN THE MIDDLE EAST! PAIX AU MÉDITERRANNÉE!
Accomplished with tools and disciplines (extreme instrumentalism, DJ'ing accross the globe) and a strong urge to create a new musical breed that surpasses the old reality borders and takes just people and culture in their extended roots from East to South, From Romania to Yemen, Balkans to North Africa, Ramallah to Tel Aviv, around our little Mediterranean pond there is more common to us then the news and politicians let people think.
With deep knowledge of their own Mediterranean roots as well as other cultures and In collaborations with artists from Bulgaria, Morocco, Spain, Israel, and Palestine and through events synchronized with VJ's, BBB has created a magical show. A semi circus event lasting 2-3 hours, involving many disciplines with a basic core band on stage of 7-8 musicians and local artists (drawing on many multidisciplinary artists around the world). The event is synchronized and keeps the audience guessing where the next surprise will appear from.
Y-Love
Y-Love (Yitz Jordan) is an MC unlike any other; he converted to Orthodox Judaism in 2000, and later took on the traditions of Hasidism (the mystical branch of Orthodox Judaism). He is among the most innovative MCs on the scene, weaving seamless polyglot rhymes in English, Arabic, Yiddish, and Hebrew. Most unique is Y-Love's revival of Aramaic, the language used to discuss Jewish Law and Kabbalah.  With each word he spits in the tongue of ancient Babylon, Y-Love breathes new life into hip-hop, one beat at a time.
Y-Love has performed with these fine folks, Lou Reed, DJ Spooky, Hadag Nachash, Matisyahu, & Steinski at venues ranging from Princeton to Irving Plaza.
Y-Love took home the award for "Best Hip Hop Artist" at the 2006 Jewish Music Awards.

His DJ:
Erez (dj handler) currently runs Modular Mood Records, an independent record label that produces a variety of hip-hop, rock and klezmer-jazz bands.  Modular Moods began in Washington, D.C., but has since moved to New York City where it continues to thrive and collaborate with other artists and organizations all across the board, such as The Workmen's Circle, DJ Rekha, MC Paul Barman, Daniel Carter, and Heeb magazine to promote the arts, and specifically a variety of cultures fused with a modern edge.  London Radio's 104.4 FM called him, "One of New York's hottest Jewish musicians", The Village Voice called his work "as producer and DJ is among the most adventurous and banging on the new Jewish music scene." and Heeb Magazine listed him in their "Hundred Heeb" and dj handler took home the award for "Best DJ" at the 2006 Jewish Music Awards.  He resides and maintains his label, Modular Moods, within the auditory heart of Brooklyn.
Jeremiah Lockwood & The Sway Machinery
Son of composer Larry Lockwood and the grandson of the legendary Cantor Jacob Konigsberg, Jeremiah Lockwood began his musical career playing on the streets of Manhattan. He soon struck up a relationship with Piedmont Blues master Carolina Slim, with whom he still performs. Jeremiah and Carolina Slim have appeared together in Avery Fisher Hall, the New School Blues Festival, and have been profiled in The New York Times Magazine and TimeOut NY.
Jeremiah has worked for years as the front man for The Sway Machinery, a blues/world beat/Chazzanus ensemble that is currently revamping its sound and taking New York by storm with the help of friends from the Antibalas horn section.
Recently, Jeremiah has been working as a composer for film and theater, scoring the Adam Vardi film Mendy, and a documentary piece on Israeli artist Miriam Cabessa that was featured as an installation at the Tel Aviv Modern Art Museum. In the past years, Jeremiah has also been appearing with J-Dub recording artists Balkan Beat Box.
Jeremiah's blues-oriented solo album, American Primitive, was released by Vee-Ron Records/Red Eye Distribution in April 2006. Jeremiah Lockwood lives in Brooklyn, NY with his wife Shasta and their son Moses Lion.
Blue Fringe
With record-breaking CD sales and scores of sold-out performances, Blue Fringe is fast establishing itself as America's favorite Jewish rock band. Captivating large and enthusiastic audiences of all ages across the religious spectrum throughout the U.S. and abroad, the band successfully mixes pop, rock, funk and R&B with Jewish themes that are particularly relevant today.
In the 3 years since its inception, Blue Fringe has released two albums. Their debut album, My Awakening, (June 2003) featured compositions ranging from soul-searching to satiric, setting a new standard for Jewish popular music. Boasting a more mature sound, the group's sophomore album, 70 Faces (June 2005) features 11 original songs, in Hebrew and English, offering a rare blend of Jewish themes and a contemporary sound remindful of the Dave Matthews Band, Coldplay and John Mayer.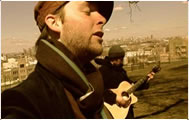 To date, Blue Fringe has independently sold over 20,000 copies of their first two albums combined. The band performs regularly on the East Coast, and has also toured the U.S., Canada, South Africa, Australia, the UK, and Israel, where it performs frequently, including the "Rock `n Soul Festival" in Beit Shemesh that hosts 10,000 fans. The band is comprised of four 20-something friends: Dov Rosenblatt, guitarist, songwriter and vocalist with an engaging stage presence and heartfelt style; Avi Hoffman, composer and lead guitarist known for his electrifying, bluesy notes; drummer Danny Zwillenberg, who incorporates rhythms from the likes of Latin, reggae, funk and rock; and Hayyim Danzig on the bass, both electric and upright, who gives the group its soul with bass-lines deeply rooted in old-school funk and jazz.
Arranged, written, and recorded over the course of several months, The Whole World Lit Up, Blue Fringe's highly-anticipated third album, hit stores in December 2006 and features a ten song collection of innovative approaches to traditional Jewish tunes. Weaving familiar melodies with original lyrics about anti-Semitism, the ongoing war in Israel, and the Jewish response of prayer to 9/11, the album infuses new perspective into ancient liturgy and promises to be their most successful release yet.
Rav Shmuel
Rav Shmuel is a rabbi who hangs out in Greenwich Village and plays original compositions on his guitar. He has a beard and sidelocks and he loves The Dead. He does not see an inconsistency between these two identities. Rather, he thinks of Judaism and music as complementary and often coalescing tools and methods for communication (blah blah blah).
Rav, who has taught Jewish Philosophy and Talmud at various Universities, has also toured the country with Gefiltefish, his first stateside band, playing sold-out parking lots before and after Phish shows. He does not play klezmer, although he does make the odd Maimonidean joke. He thinks of himself as a Rock Star.
Born in Brooklyn, Rav spent seven years in Jerusalem teaching by day and playing in the clubs at night before moving back to New York in 2001. Typing "Open Mike Night New York" into Google pointed Rav to the notorious Antihoot held in the East Village's landmark venue The Sidewalk Cafe. He quickly became a house favorite on a scene that has produced such stars as Beck, Hamell On Trial, The Moldy Peaches and, most recently, Regina Spektor. Within months he moved up to being a headlining weekend act.
Rav recently released his first album "Protocols". As Billboard wrote, "Rav Shmuel's solo debut is an immediately likable bit of good-humored anti-folk that doesn't require the visuals or even the knowledge that, yes, Rav Shmuel really is a Hasidic rabbi ... like the old slogan for Levy's Rye Bread used to say, you don't have to be Jewish to enjoy Rav Shmuel"
Rav's animated music video, "Protocols" has been getting laughs and attracting attention all over the web. "Protocols" has been viewed close to 50,000 times on YouTube.com and has won a Grand Prize of $5000 on OurStage.com, a website where fans vote for their favorite songs and videos.
So what we're talking about here people is a thirty-something Orthodox Hasidic rabbi with six kids who is rocking the pants off of the East Village's freshest scene and using the web to take the world by storm!